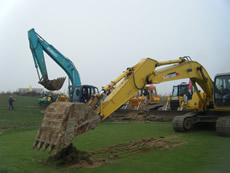 The level of service by which Flagstick gained our reputation, Gold delivers world-class construction management with extensive support from our full-time, on-site staff. Our ultimate goal is to reduce the overall risk of project execution, and to simplify the golf course construction process through precise management. Our Gold services have been integral to the successful construction of many of the world's finest golf facilities.
Full-time, on-site project manager, project coordinator and administrative assistant
Periodic site visits by Flagstick principals and/or senior project manager
Corporate/administrative assistance from Flagstick's regional office
View our Scope of Services page to read more detail about the many functions and responsibilities that Flagstick fulfills. Click here!